Water Heaters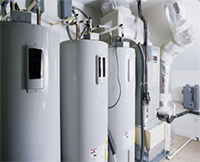 Every day we need hot water to get a nice shower, wash the dishes and do laundry. Your water heater is actually a very personal choice. Your needs determine the size, from 10 gallons to 200, electric or gas and tank type or tankless water heater. Hot water heater servicing, installation and repair have been a plumbing specialty since we opened our doors.
We can also provide water heater installation. It is very important for the water heater to be installed correctly and adjusted accurately to avoid scalding yet still provide plenty of hot water for all your needs. All components of the system including emergency drip pan, vent piping, gas cut off and connector are evaluated and replaced if necessary, saving time and money.
Plumbing Services
With the invention of the tankless water heater, you now have a new choice in water heaters. The traditional tank type version must heat the water in the whole tank before you will have hot water to use. The tank type water heater is usually your least expensive option. It is a standard in most households and usually sufficient for regular family usage. A tankless water heater offers continuous hot water. This is ideal for commercial high water usage.
With a tankless unit you have no worry of a huge water issue that can occur when a water tank leaks. We gladly walk through the pros and cons of each type of water heater so that you can make an educated decision that is right for your family.
If you hear a pounding noise in your water system and see an occasional spill of water near your water heater, you have a water-hammer problem. Water-hammer arrestors have internal rubber bladders that act as shock absorbers for high-pressure back-shocks. You typically install them between the water piping and fixture. For a clothes washer, screw the arrestors onto the stop valves and the hoses onto the arrestors. Call us for help when it comes to issues with your water heater.
Houston Service Areas :346-297-0864
Dallas Service Areas : 972-325-8581
Residents that require a lot of hot water for a large family, have specialized shower systems or those who really enjoy extra long showers find the tankless unit appealing. The tankless water heater is more energy efficient since only the water needed is heated. A tankless unit can be installed in an attic thus freeing up utility room space or the water closet. If you need help in deciding what water heater is best for your home or if you need installation or repairs, give us a call today!