Drain Cleaning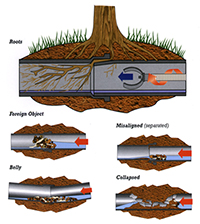 We fix clogged drains, sinks, toilets, pipes, sewage lines, and more. Clogged drains and toilets are some of the most common plumbing problems. The cause of your clog may be obvious or may need to be detected with our special video inspection equipment. The most common clogs happen in: Sink drains, garbage disposals, shower drains, toilets, and sewer lines.
Whatever drainage issue you may have, we can tend to it. Although regular repairing of sewer lines is known as cut and cover, which is the digging of a trench to take out the damaged sewage pipe and install a newer. There's now a cutting edge selection which generally actually leaves your grass, driveway, and landscaping intact, trenchless sewage pipe repair. Although an additional expenditure, it's the speediest, a great deal less harmful and least difficult resolution. Call our experts and we can give you more details about this, if, and whenever you are need of it.
Plumbing Services
When you have any problem in your plumbing or drains, we understand you'd like the repair and or cleaning done quickly and for a reasonable price. Testing methods in plumbing have improved incredibly in the recent past. As a result, problems can be pinpointed faster and diagnosed specifically, often saving time and money. Trust us in your plumbing and drainage problems and we will never fail you.
At our plumbers services we also perform video line inspections. For a fast diagnosis of your plumbing problem, we can visually inspect the inside of your plumbing system. Using special camera technology that "snakes" through your pipes, we can get an immediate, clear visual inspection of your plumbing and sewer lines. This way we can fix the problem and figure out what it is in a quick manner.
Our licensed plumbers will inspect your clog, provide a free estimate for service and repair, and get to work to clear your clog immediately. Contact us online or call our number to get a free estimate for our plumbing clog repair in the area and surrounding areas. Something Stuck in the Drain? It is common to drop items in the drain or toilet. From rings in the kitchen sink to toys being flushed for "experimental reasons" we have seen almost everything and can retrieve it all. Don't wait any longer to give us a call!
Houston Service Areas :346-297-0864
Dallas Service Areas : 972-325-8581
We can visually inspect the inside of your lines for your lost item if you dropped something down the drain, using our special video inspection equipment and retrieve it for you safely. If you believe you have lost something in a drain, turn off the water immediately to that drain immediately. If possible, do not use any water at all until after we have inspected the drain and lines to find your lost item. Our licensed plumbers fix clogs and clear drains anywhere in the area. Call us now!